While you may not be familiar with the term "pay-per-click marketing," chances are you've seen or clicked on a pay-per-click ad at least once. They are the ads in the sidebar of a blog page or the paid results on the top of a search engine's results page.
There is a range of online advertising options that charge you on a per-click basis, including paid search marketing, display advertising, social media advertising, affiliate marketing, and more. In today's digital-centric world, PPC ads can make or break your digital marketing strategy.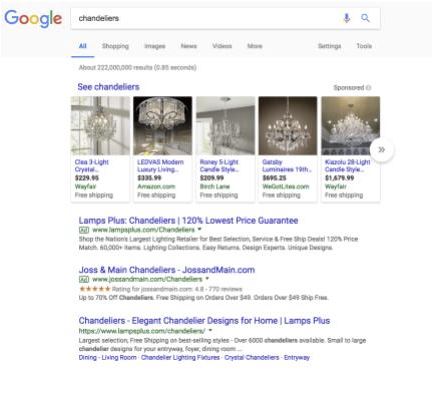 So, what exactly is pay-per-click marketing?
Pay-per-click, or PPC, marketing is a technique that allows advertisers to place their ads on a website in exchange for a fee each time a user clicks on their ad. Search engines like Google offer PPC marketing on an auction basis, where the highest bidder earns the top spot on the search engine's results page. For example, in the image to the right are results for a search of "chandeliers." The results with "Ad" next to them are PPC ads.
Like any marketing campaign, PPC marketing has its advantages and disadvantages. However, if done right, PPC ads can generate traffic to your site, attract new customers, and improve your overall ROI.
Below, we discuss the benefits a successful PPC marketing campaign can bring to your business (and your clients!). If you have your own tips and advice on PPC ads, be sure to share them in the comments. We'd love to hear them!
Why PPC marketing is beneficial for everyone involved.
Pay-per-click ads can help the users doing the searching because they can make it easier for the user to find the most helpful and related content. For users seeking local results, 36% of searches have local intent.
Since PPC ads are shown above all the non-paid, organic results, users are more likely to click on these websites first – giving the PPC advertisers an advantage over other businesses who may show up in the results below them. According to CleverClicks, 65% of customers click on ads when searching and PPC traffic converts 50% better than organic traffic.
Through PPC marketing, search engines connect searchers and advertisers, obtaining their user base from searchers while generating revenue from the advertisers.
Advantages of PPC marketing
PPC marketing is fast, nimble, and can be a bargain. In addition to the aforementioned benefits, here are some advantages PPC marketing can offer.
It's a great opportunity to grow your customer base.
We think it's safe to say that almost everyone is using the internet now-a-days for one reason or another. So, PPC marketing is great way to reach current and potential customers. Through the power of search engines, advertisers can use keyword targeting to reach their ideal customers.
It generates leads at a low cost.
The cost of creating a PPC ad for a keyword can be as low as $.10 per click. Search engines offer PPC ads on an auction-basis, and you can sometimes find keyword niches (read: long-tail search teams) for a bargain. Not to mention that the ROI of PPC ads can be faster than any other type of advertising.
PPC marketing is simple and works quickly.
With some tools, like Google AdWords, you can gain clicks and generate traffic
within a few minutes of opening an account. With PPC advertising, adjusting your campaigns based on user behavior and market conditions can be done within hours or days; whereas other forms can lag weeks or months.
PPC campaign results are easily measured.
Compared to SEO, you can view and analyze your PPC campaign results easily. There are metrics available to allow you to see the number of users who saw your ad, how many users clicked it, and see how users are reacting to your ad. These metrics help you figure out if your ads are generating conversions and profit or if you need to revisit and tweak your PPC strategy.
Pay-per-click marketing is a versatile strategy that can work for any business. Whether you're looking to sell a product or service, share professional advice or tips on a subject, etc., PPC campaigns can be easily adjusted to fit your needs.